Renovate BLDG 5983, Windward Community College


The project involves renovation of a 9,200 SF historical building for mixed office and special programs use by the Windward Community College. Interior work included complete demolition, concrete slab repairs, new interior walls and ceilings, doors, structural steel, electrical, plumbing, air conditioning, painting and flooring. Exterior building work consisted of replacement of all windows and exterior doors, plaster repair, new ADA concrete ramps and sidewalks, and complete exterior painting. Site work involved underground utilities to connect the new building air conditioning chilled water system to the central campus system.


Paradigm Office Bldg.

Construction of a new office building for Paradigm Construction.

Ewa By Gentry Area 14

Ewa By Gentry Area 14 Subdivision, 285 single family homes, consist of over 100,000 cy of mass grading work, utility infrastructures, electrical systems and 22,700 sy of new roadways in Ewa, Oahu.

Kakaina Subdvision

New Single Family detached home subdivision consisting 285 homes in 23 acres of land adjacent to Coral Creek Golf Course. Work includes clearing and grubbing, mass excavation and embankment of over 100,000 cubic yards, 2,800 linear feet of retaining walls, sewer, drain, water, electrical systems and over 22,700 square yards of new asphalt roadways.


---
Ewa by Gentry Area 41/48/50 Park
Construction of a new 9 acre park at Kapolei Parkway and Keaunui Drive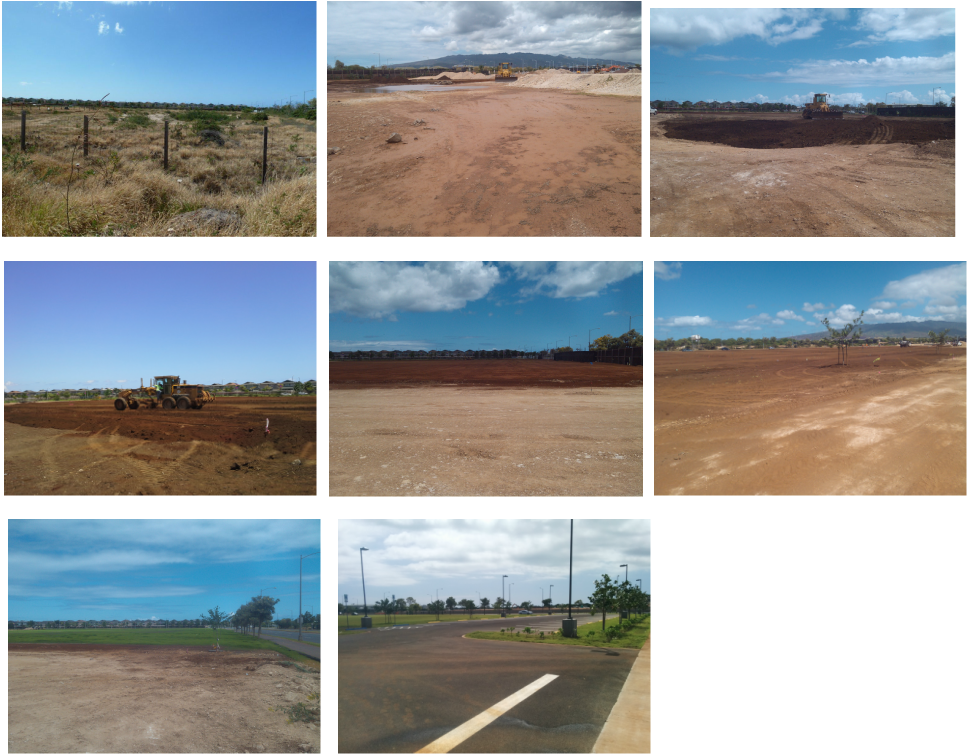 ---
Ewa by Gentry Area 40 Ph. 3
Construction of 75 of new single family homes consist of 105,000 cy of mass grading, utility infrastructures and the construction of new roadways.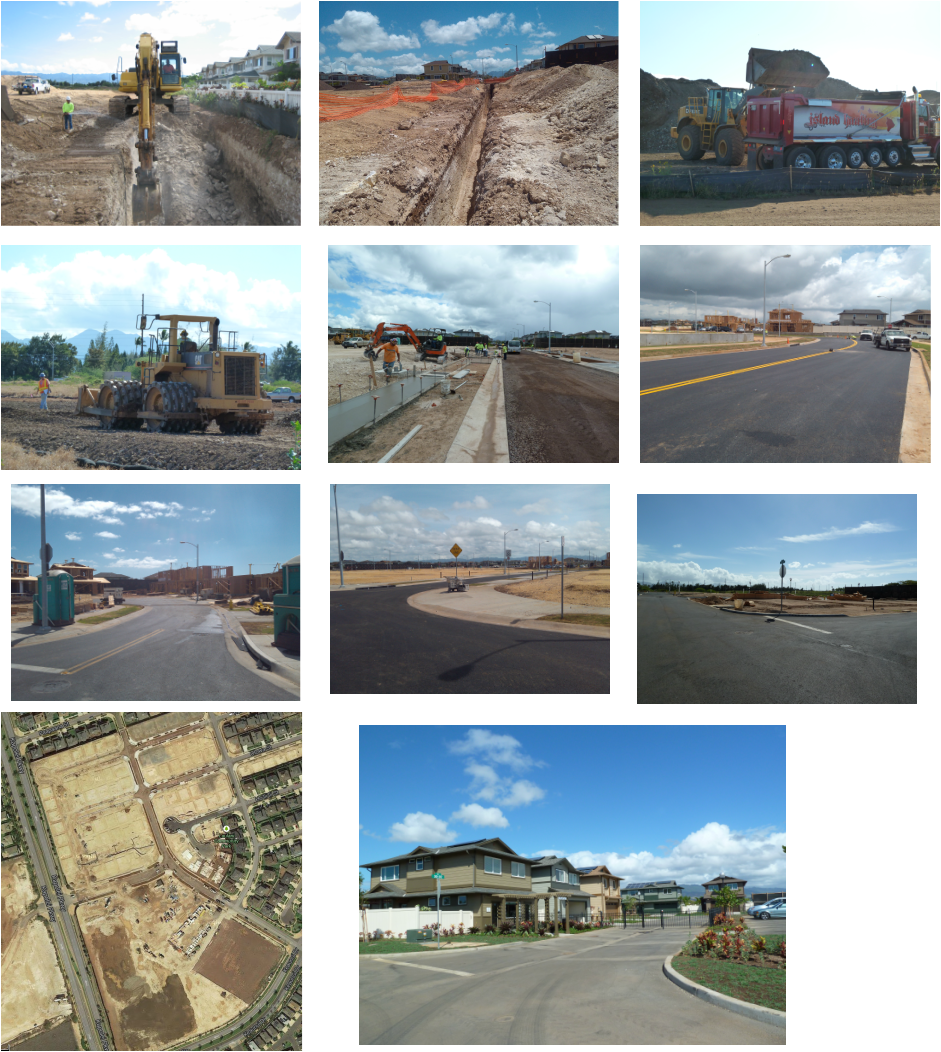 ---
DHHL Road E Ext.
Construction of a new arterial roadways including major utility infrastructures for Department of Hawaiian Home Lands in Kapolei.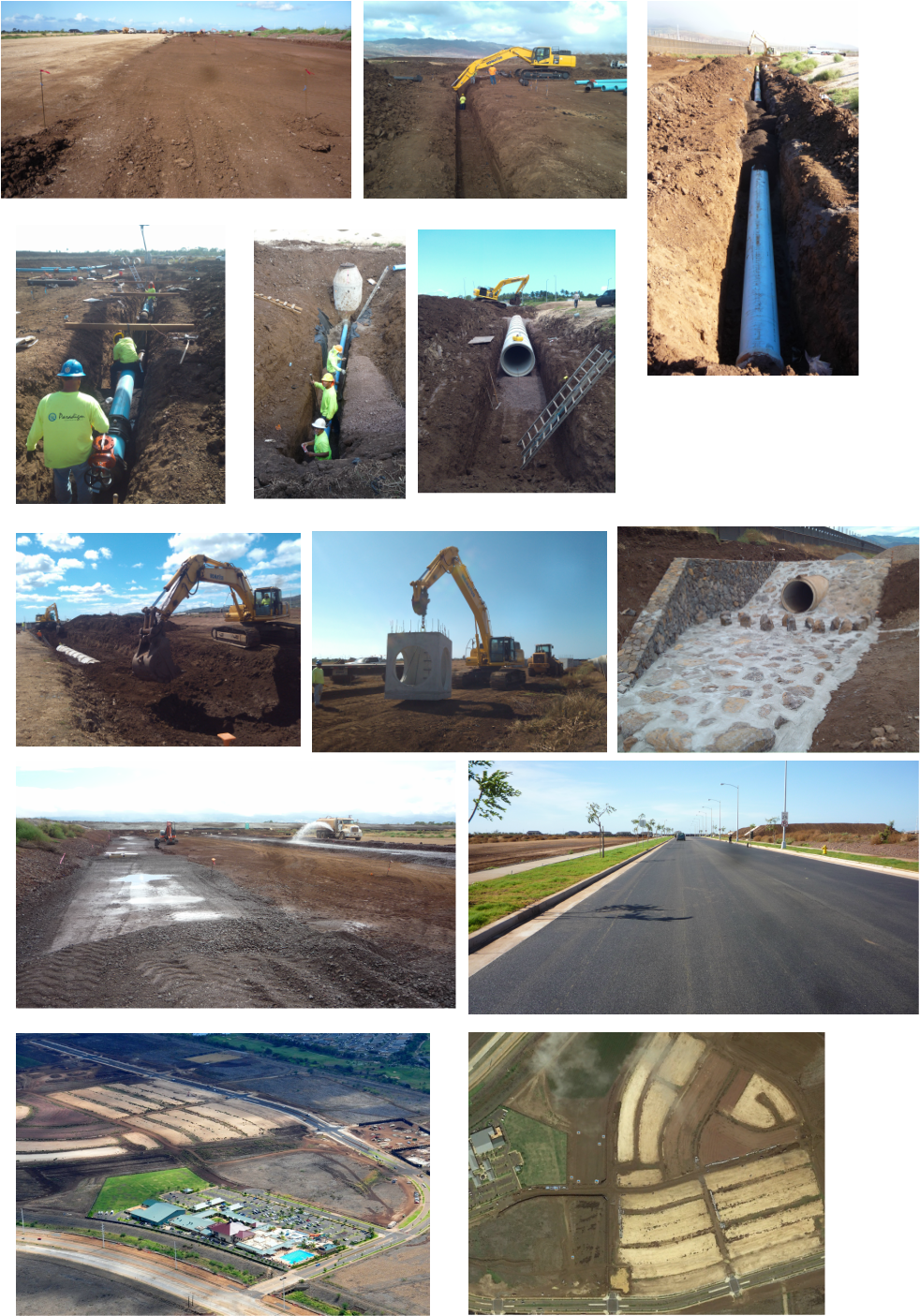 ---
Traffic Improvements at Harding Avenue at 5th Avenue and 11th Avenue
Widening of Harding Ave to add a left turn lane to the freeway on ramps. Work included demolition, utility pole relocation, sewer and drain improvements, sidewalks, curbs and gutters, wheelchair ramps, railings, street lights, AC paving, signs and striping.


---
Mililani Mauka Commercial B Longs Drugs, Buildings A2 Thru A4 and Ainamakua Drive Widening
Sitework and utilities for new Longs Drugs and future commercial buildings. New parking lot with landscaping and bioswales. Widening of Ainamakua Drive including new traffic signals and street lights.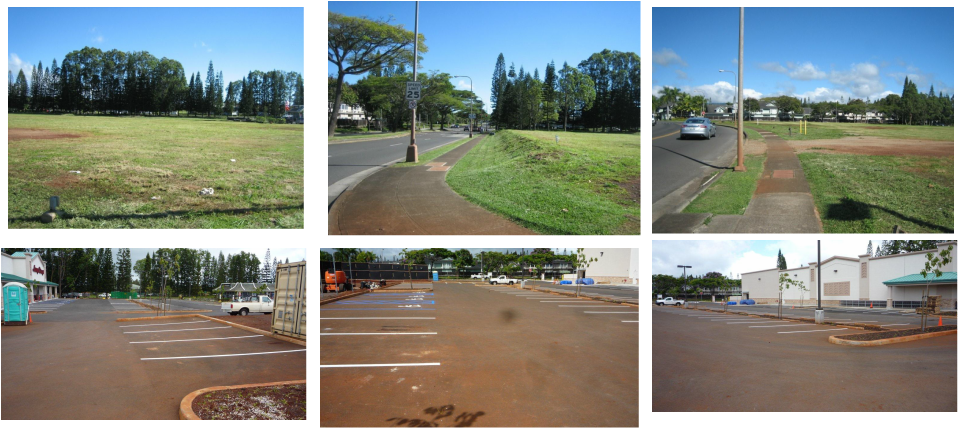 ---
Interstate Route H-1Extension and Repair of School Street On-Ramp Retaining Wall & Drainage Improvements
Demolition, drainage improvements, retaining walls, tiebacks, slope stabilization, street lights, landscaping, AC pavement, signs and striping.



---
C-17 Clear Rinse Water Facility & Taxi Way Improvements (Hickam)
Our scope of work included mass grading, concrete demolition, installation of subbase and base course layers for proposed C-17 airplane taxi ways.

---
East Kapolei 42" Interceptor Sewer Main



---
Middle Street Intermodal Center, PHASE 2B-2 Intersection Improvements
Road widening/intersection improvements to provide access to the new bus terminal. Demolition, drainage improvements, gas and water relocation, hazardous material disposal, electrical and street light improvements, utility pole relocation, concrete pavement, new traffic signal system, curbs and gutters, sidewalks, wheelchair ramps, AC pavement, signs and striping.



---
Castle & Cooke Homes Hawaii - Nohona 2 & 3 Multi-family Subdivisions (Kapolei)
Construction of a new subdivisions for proposed 25 multi-family buildings.

---
DR Horton - Mehana Arterial Roadways
Construction of new major roadways for DR Horton's proposed subdivisions.

---
Ewa by Gentry Area 19 Park
Construction of a new 9 acre park site for Ewa master planned communities.

---
Bishop Museum Exterior Improvements
Demolitions existing structures and construct new concrete, wall, electrical and landscape improvements.

---
Detention Basin on University of Hawaii West Oahu Campus
Construction of a new single family subdivision consist of excavating and embanking 105,000 cy of structural fill materials, installation of utility infrastructures and constructing new roadways.


---
Kuhio Beach Park Hula Mound
Grading, concrete sidewalk, aritificial turf and landscape work in the heart of Waikiki.


---